Frequently called 'Islands of Eternal Spring', the Canaries have warm and sunny weather all year round, with temperatures rarely under 16ºC (61ºF) in winter and 25ºC (77ºF) in summer. This is partly due to their closeness to northern Africa, making them one of the sunniest places on the planet!
There is absolutely no doubt that Lanzarote is a holiday hotspot, attracting visitors from around the world looking to escape from the cold days and grey skies of home... and you could be among them enjoying some time in the sunshine.
Rain is very rare, resulting in a dry climate with an average 16 days of rainfall annually, usually between December and February.
Unlike most of the other Canary Islands, Lanzarote does not have any high mountains (the highest being around 2,198 ft (670 metres), which means there are very few clouds that provide a natural barrier, lower evaporation and a reasonable humidity level.
Lanzarote's climate can vary depending on exactly where you are – even so, it has the most consistent climate of all the islands of the archipelago, making it a favourite winter holiday destination. The north is usually windier, cloudier and has a little more rain due to the moist trade winds. The southern part is drier, hotter and enjoys as much as 2,500 sunshine hours annually. Central Lanzarote, located between the windier north and the sunnier south, can be said to have the most moderate climate on the island.
Sometimes in the summer the hot sirocco wind – a phenomenon referred to by the locals as "calima" – is prevailing and this can make conditions very hot, dry and dusty. It usually lasts for no more than a few days.
Feeling the warm sun on your face, walking under blue skies and cooling off in the ocean sounds fantastic, doesn't it? Check out the best 4 and 5-star hotels in great locations – all at bargain prices and with a Spain-Lanzarote recommendation.
See our Lanzarote Map for a closer look
For quality Car Hire visit Discount Rent A Car
Weather Forecast for Lanzarote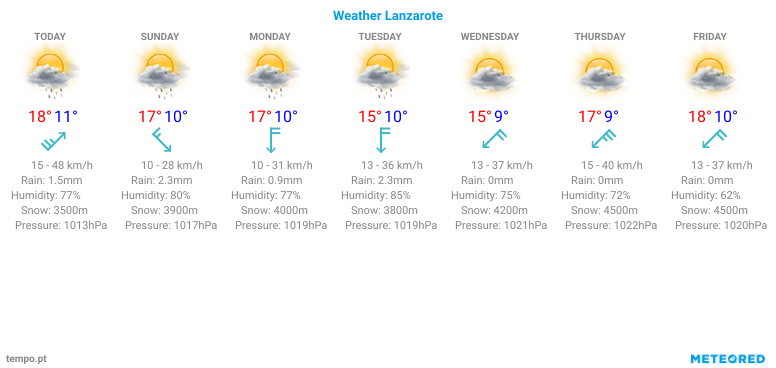 Average Temperatures in Lanzarote
Average High/Low Temperatures in Lanzarote
Average Sea Temperatures in Lanzarote
Average Sunlight Hours
Averages Rainfall (mm/days)
Satellite Image